Read Tom Emmerling's take on recruitment strategies in Buffalo Business First
July 2023 – Tom Emmerling recently met with Western New York's newest C-Level leadership for a conversation about recruitment and retention strategies. A recap was featured in Business First of Buffalo.
Publisher's dinner: Creativity part of a successful recruitment, retention plan
If all the "Help Wanted" and "We're Hiring" signs everywhere are any indication, Western New York is in a workforce crisis.
Buffalo Business First Publisher John Tebeau recently invited C-level leaders from an array of organizations representing service, nonprofit, academic and technology sectors for a conversation over dinner about getting and keeping talent in the region.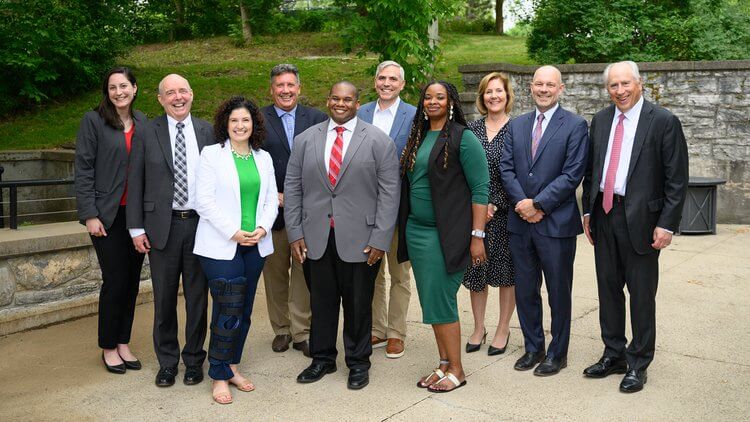 Sara Tanbakuchi, Thomas Emmerling, Michelle Fisher, John Tebeau, Wayne Lewis, John Ende, Dominique Goss, Anne McCaffrey, Jeff Gingerich and Benjamin Zuffranieri, Jr.  Photo credit: Joed Viera, Business First of Buffalo.
The group overall agreed that recruitment and retention of a young workforce is an effort that needs to extend well beyond any human resources department. It should actively involve people who are interested in the continued growth of their organization and region's economy.
Joining the lively session were Dopkins & Co. Managing Partner Thomas Emmerling; Great Lakes Dental Technologies CEO John Ende; Arc Building Partners CFO Michelle Fisher; St. Bonaventure University President Jeff Gingerich; M&T Charitable Foundation Executive Director Dominique Goss; Houghton University President Wayne Lewis; People Inc. CEO Anne McCaffrey; TechBuffalo CEO Sara Tanbakuchi; and Hodgson Russ LLP Managing Partner Benjamin Zuffranieri, Jr.
Dopkins & Co. has developed a recruitment strategy that debunks the notion that to be a success means to work in a New York or a Chicago, Emmerling said. It focuses on keeping local students, from institutions such as Canisius, Niagara and St. Bonaventure universities, working locally and emphasizes the strengths of the firm and the benefits of living in Western New York, he said.
Panelists
John Tebeau, publisher, Buffalo Business First
John Ende, CEO, Great Lakes Dental Technologies
Michelle Fisher, CFO, Arc Building Partners
Jeff Gingerich, President, St. Bonaventure University
Dominique Goss, Executive Director, M&T Charitable Foundation
Wayne Lewis, President, Houghton University
Anne McCaffrey, CEO, People Inc.
Sara Tanbakuchi, CEO, TechBuffalo
Benjamin Zuffranieri, Jr., Managing Partner, Hodgson Russ LLP