Tom Emmerling among WNY leaders discussing culture initiatives for attracting and retaining talent in Buffalo Business First
Published November 4, 2022 – Thomas Emmerling joined a group of WNY Business executives for an in-depth conversation about the state of hiring & employee retention in a post-covid world.
Western New York leaders discuss culture initiatives to attract and retain new generation of talent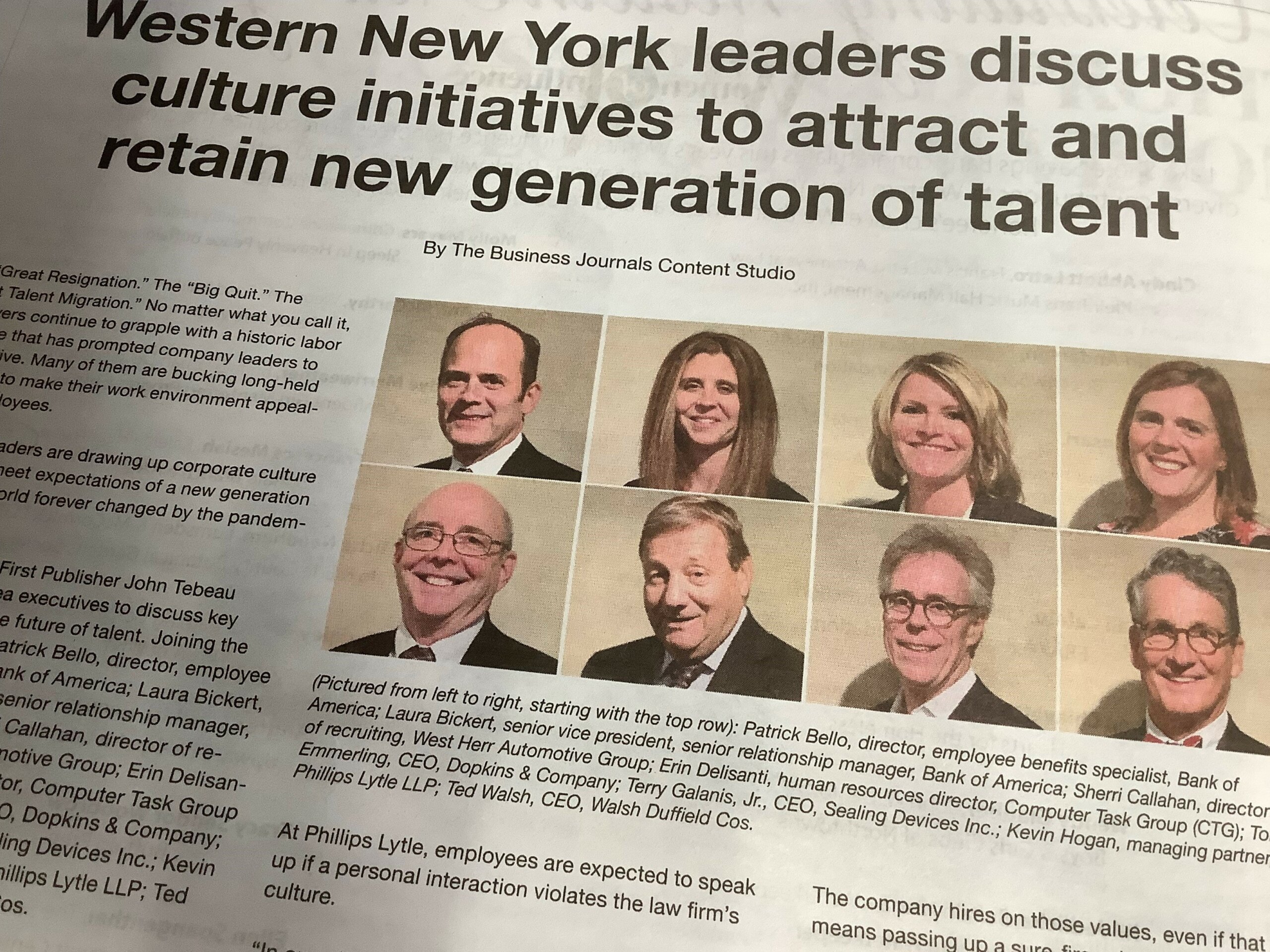 The "Great Resignation." The "Big Quit." The "Great Talent Migration." No matter what you call it, employers continue to grapple with a historic labor shortage that has prompted company leaders to get creative. Many of them are bucking long-held practices to make their work environment appealing to employees.
In Buffalo, leaders are drawing up corporate culture initiatives to meet expectations of a new generation working in a world forever changed by the pandemic.
Buffalo Business First Publisher John Tebeau recently invited area executives to discuss key trends impacting the future of talent. Joining the conversation were:
Patrick Bello, director, employee benefits specialist, Bank of America.
Laura Bickert, senior vice president, senior relationship manager, Bank of America.
Sherri Callahan, director of recruiting, West Herr Automotive Group.
Erin Delisanti, human resources director, Computer Task Group (CTG)
Tom Emmerling, CEO, Dopkins & Company.
Terry Galanis, Jr., CEO, Sealing Devices Inc.
Kevin Hogan, managing partner, Phillips Lytle LLP.
Ted Walsh, CEO, Walsh Duffield Cos.
Here are key takeaways from the conversation. The participants' comments have been edited and condensed for clarity.
Culture from the top down
Culture is a driving force impacting talent and it starts at the top in most organizations, including CTG.
A founding tenet of the company was that if employees are happy, they'll produce quality work. That got lost for several years while the company focused on growing the bottom line and satisfying investors and board members, Delisanti said.