Watch: Business First of Buffalo Family Business Awards
December 3, 2020 –  Dopkins was proud to co-sponsor the  inaugural Business First of Buffalo Family Business Awards.
The Family Business Awards honor multi-generational and family businesses in Western New York for overall excellence, innovation, ethics, philanthropy and contribution to the strength of the region.
Click the image to watch an encore screening of the Family Business Awards Ceremony.
(You will be redirected to the Business First of Buffalo website.)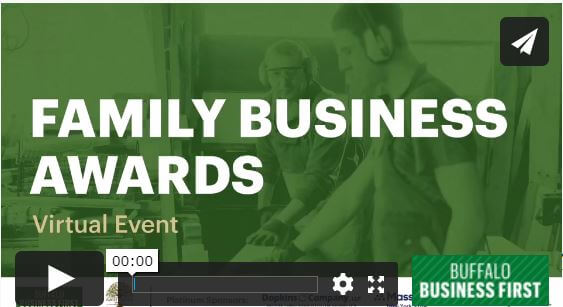 Amos Zittel  &  Sons Inc.
ARP Materials Inc.
Benhatzel's Cordailly Yours Wine and Spirits
Chudy Paper Co.
Curbell Inc.
DiCamillo Baking Co. Inc.
Father Sam's Bakery
Fretthold Funeral Home
Great Lakes Building Systems Inc.
Hunt Real Estate Corp.
Irish Welding and Irish Propane
Kelton Enterprises
NetPlus Alliance
Orthodent Laboratory
Pinto Construction Services Inc.
Sonwil Distribution Center Inc.
Walsh Duffield Cos. Inc.
Zenner & Ritter
The Terry Galanis Sr. Leadership Award for Multi-Generational Family-Run Businesses was established in honor of the late Terry Galanis Sr., founder and chairman of Sealing Devices Inc. He passed away June 25, 2020, at the age of 102.  He will be remembered for building a company from the ground up, exhibiting strong leadership and creating an environment where people look forward to coming to work every day.