Dopkins to Host Accounting & Financial Women's Alliance Event 11.13.18
Tuesday, November 13th – Dopkins is proud to welcome the Buffalo Chapter of the Accounting & Financial Women's Alliance for a breakfast seminar on Mindfulness and Emotional Quotients.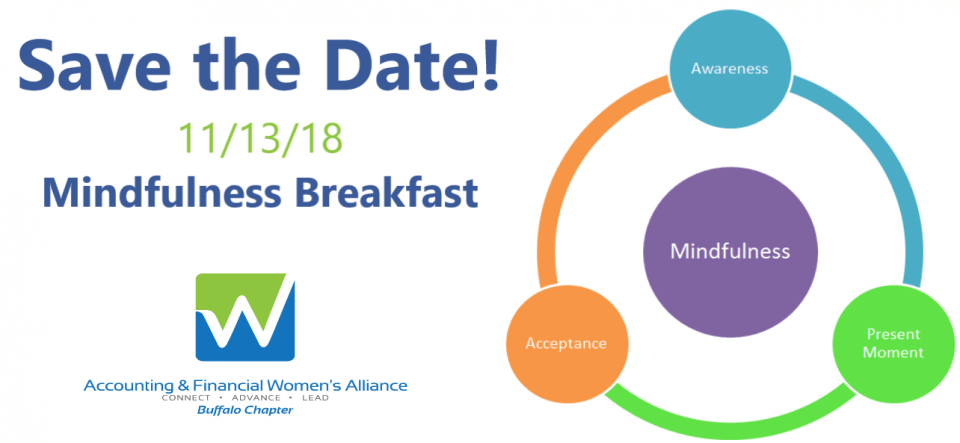 Are you Mindful? Do you have a high Emotional Quotient? Learn more at the AFWA Mindfulness Breakfast!
Mindfulness Breakfast Meeting – Creating Clarity Around Competing Priorities
Tuesday, November 13, 2018
8:00 AM – 10:00 AM
Today's professionals have a variety of competing priorities in their lives: responsibility for professional results; responsibility for employee development; responsibility for family and personal commitments; responsibility for personal development, etc. Creating clarity around your ultimate goals and aligning priorities to this envisioned future will provide a road map for daily, monthly and quarterly activities. We will explore a few simple strategies to help focus your actions and integrate various aspects of your life.
Agenda:
8-8:30am – Networking / Breakfast
8:30-9:30am – Presentation
9:30-10am – Questions f/ Networking
Speaker:
Jessica J. Schimert: OD Consultant – Performance Management Partners
Tickets
$5.00 AFWA Member Ticket
$10.00 AFWA Guest Ticket
For more information or to register, visit https://afwabuffalo.org.