As seen in Business First: Bart McGloin discusses key succession issues for next generation owners of WNY companies
Published April 14, 2023 – Bart McGloin recently participated in a panel discussion on the topic of planning for a smooth transition for Western New York Family Owned Businesses.
Family-owned business: Another generation ready to lead WNY small businesses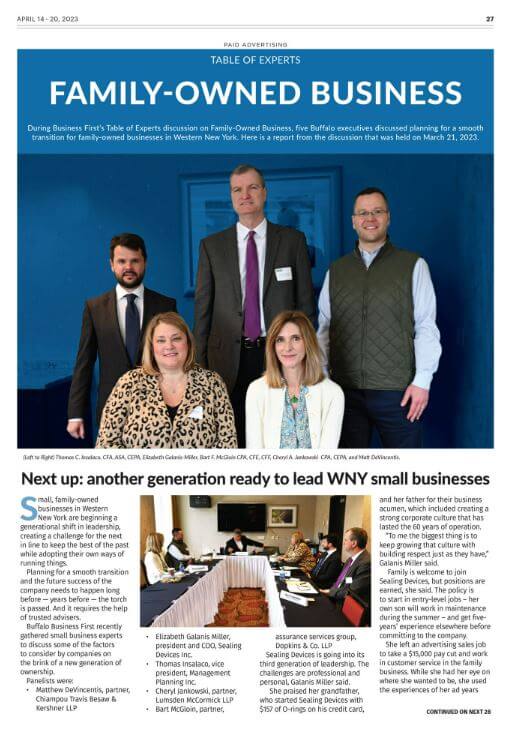 Small, family-owned businesses in Western New York are beginning a generational shift in leadership, creating a challenge for the next in line to keep the best of the past while adopting their own ways of running things.
Buffalo Business First recently gathered small business experts to discuss some of the factors to consider by companies on the brink of a new generation of ownership.
Panelists were:
Matthew DeVincentis, partner, Chiampou Travis Besaw & Kershner LLP.
Elizabeth Galanis Miller, president and COO, Sealing Devices Inc.
Thomas Insalaco, vice president, Management Planning Inc.
Cheryl Jankowski, partner, Lumsden McCormick LLP.
Bart McGloin, partner, assurance services group, Dopkins & Co. LLP.
Sealing Devices is going into its third generation of leadership. The challenges are professional and personal, Galanis Miller said.
She praised her grandfather, who started Sealing Devices with $157 of O-rings on his credit card, and her father for their business acumen, which included creating a strong corporate culture that has lasted the 60 years of operation.
"To me the biggest thing is to keep growing that culture with building respect just as they have," Galanis Miller said.
Family is welcome to join Sealing Devices, but positions are earned, she said. The policy is to start in entry-level jobs – her own son will work in maintenance during the summer – and get five-years' experience elsewhere before committing to the company.
She left an advertising sales job to take a $15,000 pay cut and work in customer service in the family business. While she had her eye on where she wanted to be, she used the experiences of her ad years plus the time working her way through Sealing Devices to learn the ropes and earn respect.
To be successful like Sealing Devices, companies large or small, public or private, need to have a clear mission, good data, good systems and a good team made of people – family especially – with ability and the passion to do the job, McGloin said.
Minus any of those, the business will struggle, he said.
"Quality-run family-owned businesses hold people accountable regardless of what their last name is," McGloin said. "For those who don't, problems accumulate over time, and that's when problems begin to show up in operating results."